RULES & REGULATIONS
DIE = 3'- 0" x 0'-10" x 2'-8"
BASE = 3'-8" x 1'-4" x 0'-10"
INSCRIPTION: Only the FAMILY name is to be inscribed. All lettering must be sandblast incised. No Epitaphs will be permitted.
FOOTSTONES = 2'-0" x 1'-0 x 0'-4"
Footstones must be of the same material as family stone. Must have steeled or polished top. Balance rock pitch. Must be set flush (Ground Level.) Lettering must be sandblast incised.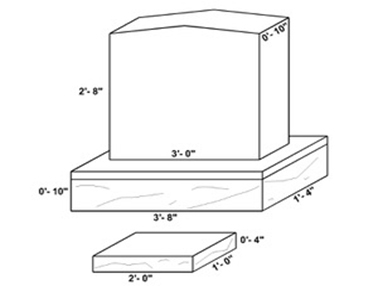 It is understood and agreed that one family monument and two footstones are to be used. Each Companion Plot must be used separately and cannot be joined with another.
Shape, finish where not specified, design and color are optional. Planting will not be permitted on these graves. These graves will be maintained by the cemetery on the "Lawn-Plan" without cost to the purchaser and/or his heirs.
NO VARIATIONS IN SIZE WILL BE PERMITTED.
Click here to view the Rules & Regulations for Beth El Cemetery
Beth El Cemetery offers numerous interment options available for immediate purchase. For additional information regarding Individual Graves, Companion Graves or Family plot availability and Pricing, call us or click the Request Information button below.
Contact us today to schedule a private consultation with our Memorial Counselors.